Our Organization
Main Line Mentoring, previously known as Kids First Now! is a 501c(3) non-profit organization dedicated to improving the lives of school age children. Education is at the forefront of what we do while also being committed to offering opportunities that foster responsible citizenship, leadership, and self-respect to children of all ages.  Our programs are intended to enrich their lives and embrace their educational journey through free academic tutoring, plus social and cultural growth through exposure to activities to enhance their learning.  We partner with the community to assist us in providing opportunities to attend various events and field trips  while building positive relationships with peers and mentors. Since 1994, there have been many contributions of money, books, electronic equipment and loving hours of service to which we are forever grateful!
We believe:
1. Every child is capable of learning.
2. Every child can be a positive contributor to his/her family and community.
3. Self- respect is a result of the recognition of personal accomplishments.
4. Self-esteem is the building block to one's confidence and self-worth.
5. "It does take a village to raise a child" – An African proverb.
---
 Our Founder
Kevin D. Stroman Sr.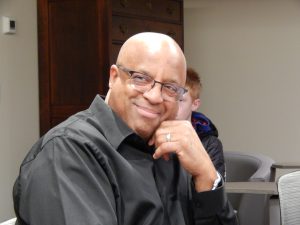 Kevin grew up in the village of Mt. Pleasant, in Wayne, Pennsylvania. Upon returning from California in 1994, he saw the need for an organization to help young children in the neighborhood. He became a one-man community force with a purpose revealed to him when he surrendered his life to God. He had first-hand knowledge about how difficult it is to redirect a life of bad decisions and weaknesses. His motto became "I can't change where I've been, but I know where I'm going". As a result of his "re-birth" Kids First Now! was born and later became Main Line Mentoring.
The Mount Pleasant Chapel/Carr School was a part of our youth growing up and with the generous donations of time, talent, hard work and love by many in our community. It was refurbished in 2002 and was managed by a board comprised of local businessmen that worked tirelessly to bring back to life this historic building which was built in 1832. We have been holding programs there since completion.
---
"Look forward with confidence and back without regrets"
---